Which one is the best for you?
Meeting anyone? Remember the good ole days when we all used to cram in to a conference room, pass around the muffins, slurp on our takeaway lattes, and talk over the top of each other?
Nowadays, with the new remote way of working, video calls ARE the new "business meeting" and often the new "phone call".
Top perks of video Technology:
Streamlined communications.
Video ensures people are more engaged.
Faster responses and improved team communication.
Ability to connect from remote workspaces.
Ability to host large global meetings.
Improve collaboration and productivity.
Recording of meetings for those unable to attend.
Great platform for online events to be conducted.
Plus, you can see other peoples body language on a meeting (no more secret eye rolling at the boss Susan!)
What is Microsoft Teams?
Microsoft Teams is a communication platform included in Microsoft 365. Though Teams offers video conferencing capabilities, that's far from its only use. The platform also includes chat and voice calling functionality and enables teams to share and edit files in real time via a shared virtual workspace. Teams is highly integrated with other products in the Microsoft suite, including Word, PowerPoint and Excel, making it a true collaboration platform.
What is Zoom?
Zoom is a communications platform that encompasses audio and video conferencing, chat functionality, video webinars and more. Zoom offers an entire marketplace of application integrations, including MailChimp, Zendesk, Marketo and even Microsoft Teams for additional extensibility. Though Zoom has been around since 2011, it's seen stunning growth in 2020, increasing from 10 million daily meeting participants in December 2019 to over 300 million daily meeting participants in April 2020.
Consider your audience?
The first step is to consider who and what you are using video calling for. If the main focus is meetings amongst colleagues at an organisation that already uses Microsoft products—especially Office365—then the obvious choice for video calls is Microsoft Teams. Even if you do use Teams at work, you still might want to use Zoom for meetings with people external to your organisation as Zoom is still more well-known than Teams.
The nuts and the bolts:
But how easy are each to use? Both Teams and Zoom give users the option to join via the browser rather than downloading. This means that you can just send them an invitation, they click on the invitation, and the application will open up automatically. Easy!
User Interface
New users may find Teams more complicated to use than Zoom since it is part of Microsoft's much larger universe of productivity, collaboration, and communication tools. There is an initial learning curve because of the many ways Teams integrates with other Office apps. That said, the integrations are intuitive, and their usefulness outweighs the required learning. The Zoom video conference controls are similarly simple and user-friendly.
Microsoft Teams and Zoom share many of the same features. Both providers offer:
Screen and app sharing
Whiteboards
Chat functions
Voice calling
Customized backgrounds
Breakout rooms
Meeting recordings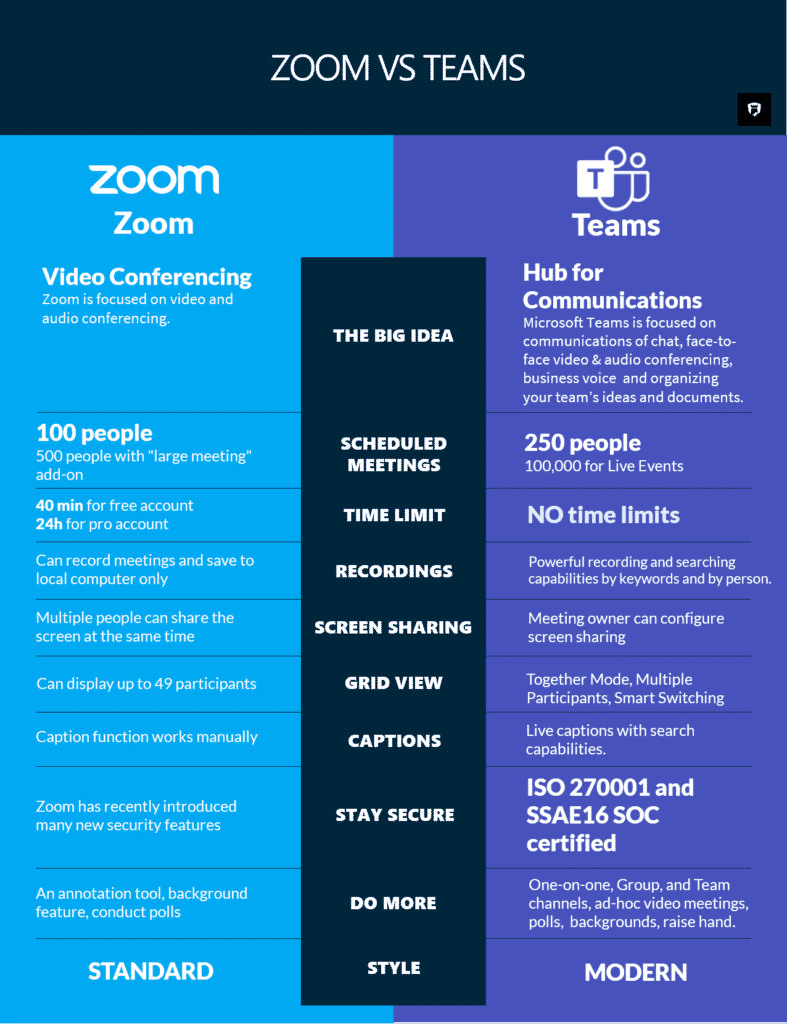 *Teams has recently increased to 300 people
Pricing:
Both Teams and Zoom have free and paid versions. Microsoft offers a number of different pricing tiers for Teams, some of which come with varying degrees of access to other Office365 apps
The main differences between free and paid versions are meeting duration limits, participant capacity, file storage and the Microsoft apps you gain access to with each plan
Free plans:
Zoom gives its free users just 40 minutes for group meetings but up to 30 hours for one-to-one sessions.
Microsoft teams: Microsoft Team users on the free plan are limited to 60-minute meetings.
Paid plans:
Zoom's paid plans:
Meetings can last up to 30 hours
Capacity of 1,000 max participants
Microsoft Teams:
Caps meeting duration at 24 hours.
300 max meeting participant allowance.
File storage varies by provider plan; Zoom's top plan offers unlimited file storage, while Microsoft Team caps storage at 1 TB per organisation and 10 GB per license.
So who is the winner on the day?
As you can see, Microsoft Teams and Zoom are both highly intuitive, very comparable platforms, which can be useful in different situations.
Teams also offers so many other benefits beyond just video conferencing including
Teams and Channels
File storage within SharePoint Integration
Audio Conferencing
Security and Privacy
Every business has its own particular requirements, and we are highly trained at matching your business with the best platforms and technology just for you. Reach out to us here, and we will help you out.