Microsoft Loop is described as a co-creation experience that brings together teams, content, and tasks across your tools and devices. It is essentially a virtual workspace where teams can collaborate on projects, share documents and ideas, and keep track of tasks and deadlines.
It's made up of three key parts which are Loop components, Loop pages, and Loop workspaces.
Loop components are portable pieces of content that stay in sync across all of the places they have been shared regardless of where they are being updated. So, you can think of Loop components as being building blocks of content, so things like tables, lists, and paragraphs. When you create a Loop component such as a table, you can share that in Microsoft Teams, Outlook, or Word, and regardless of which application your colleagues update that table in it is going to remain in sync across all places. The idea with Loop components is that Loop is not another tool you have to learn but rather is providing a platform for people to use whichever Microsoft collaboration tool they prefer to work with, without sacrificing productivity that is impacted by having to switch between multiple applications or dealing with content that is out of sync.
Loop pages are flexible canvases where you can organise the components and pull in information such as links, files, or data.
Loop workspaces group together the Loop pages so you can have all relevant content to a particular project or purpose in a central workspace.
The Loop app is now available in public preview and is where you can access all these three parts of Microsoft Loop. The Loop app is going to help you organise everything that's needed for particular projects into a single workspace. Before the Microsoft Loop app was available, Loop components would all be stored in your OneDrive but in different folders depending on the application that was used to create the Loop component. With the Loop app, this is now going to be centrally available in one place. It also helps you find content that's relevant to the project you're creating the workspace for. When you create a new workspace in Loop and give it a title, you can add keywords and based on those keywords it's going to suggest content and documents that could be relevant for you to include in the workspace.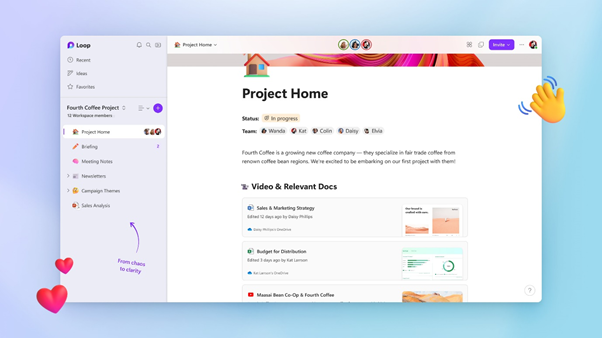 Collaboration
You can collaborate with others by either sharing an entire workspace (which will include all the Loop pages and Loop components), or you can choose to share individual pages or Loop components. For example, you might be working on a Loop page with just a few people but you might want input or feedback from a wider group on a particular table in the Loop page. In this scenario, you can just share a component, so you can just share the table or the task list they can update it will sync to your Loop page if you make changes in the Loop app it's going to sync to the table that they have in their Teams, Outlook, or Word so you can collaborate on that specific piece of content without needing to share your entire page or your workspace.
There is a presence indicator in Loop, much like in the other M365 apps, so you can see if your colleagues are also actively working on a Loop page or component.
Versioning is also available in Loops, so if somebody messes up your content or makes changes you don't like, you can easily revert to previous versions.
Templates
Currently, there are 10 templates that you can use when you create a new Loop page which include project planning templates, meeting notes, issue trackers, product wikis, etc with pre-designed layouts and components to get you started.
If you're starting with a blank page and you can type a forward slash which will bring up a list of all the components you can add to your page such as a table, a bullet point list, an image, etc.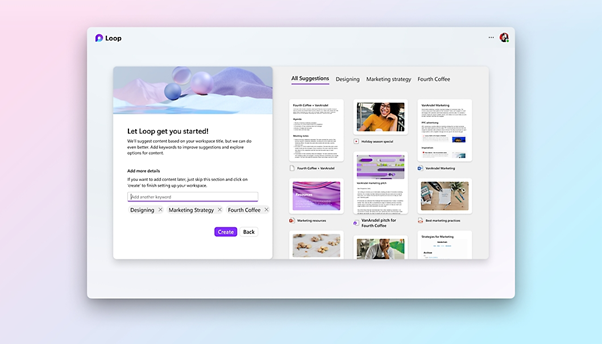 Copilot in Loop
Copilot will be coming to Microsoft Loop, so we are then starting with a blank page you can use Copilot to spark inspiration to get you started. There will be four options, Create, Brainstorm, Blueprint, and Describe, and Copilot will generate content based on what you ask it to create. One of the cool features of this is that you can continue to work with Copilot on the content even after it's generated the initial text, so for example, you could use Copilot to generate a paragraph, and if your colleague who you are collaborating with has ideas for improvements, such as making the content more concise, then could ask Copilot to make the changes and continue to work with it.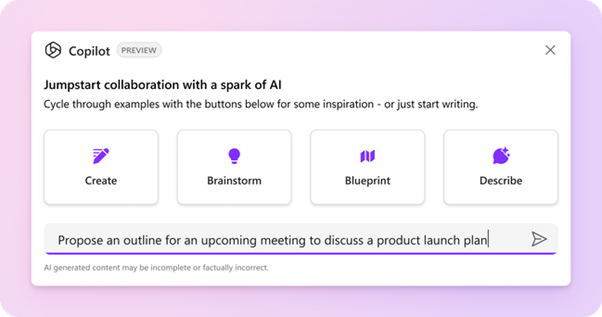 Multi-Geo
Multi-Geo enables customers to expand their Microsoft 365 presence to multiple regions or countries within an existing Microsoft 365 tenant while meeting data residency requirements. The SKU allows a customer to relocate a user's data to a specific regional datacenter (known as a satellite geography location). Per General Data Protection Regulation (GDPR) requirements, the user's data isn't copied in the original geo the user was in. The relocated user data is limited to a user's mailbox, OneDrive, and Teams chat data.
M365 Multi-Geo add-on SKU for CSP will be available June 1st, 2023
1 year commit, 3 year commit, and 1 month trial available
These are user-level add-on licenses. Partners will need a subscription license for each user to be hosted in a customer's Satellite Geography location in their Microsoft 365 tenant
Customers must purchase enough add-on licenses to cover at least 5% of the customers total number of eligible seats

A: 200x M365 E3 seats – must purchase at least 10 multi-geo seats

B: 1000x M365 E3 seats – must purchase at least 50 multi-geo seats. Alt. if they only wanted 25 multi-geo seats they could set up a separate tenant for the e3 subscription with <500 users to meet the 5% requirement.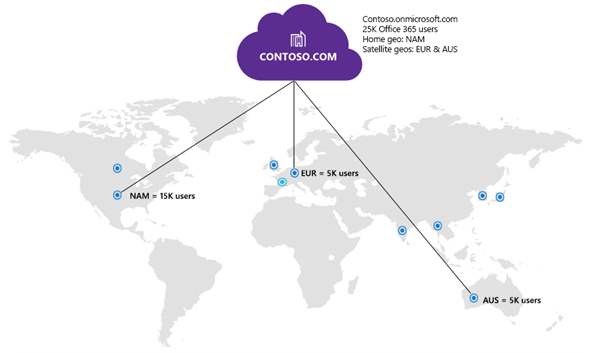 Price Alignment
Microsoft is implementing a defined cadence to its existing process of aligning Microsoft Cloud pricing globally to US dollar levels and OnPrem pricing across regions. This is to ensure customers across different geographies and currencies will have consistent pricing. Price alignment will happen at semi-annual intervals, every September and February starting September 1st, 2023.
Microsoft will adjust pricing resulting from local currency fluctuations to align with global US dollar pricing.
Pricing may be raised or lowered to align with global USD pricing.
Not all local currencies will be impacted in each semi-annual cycle.
Local currency fluctuations will be observed between adjustment periods.
Impacted currencies will be announced up to 60 days ahead of the price change effective date.
Notification to partners and customers of price list changes will follow our typical process and timeline with 30 day price list preview where required.
Percentage changes will be announced on Partner Center up to 60 days ahead of the new price effective date.
Azure subscribers will receive a price change e-mail notification approximately 30 days ahead of the price change.
If you would like any more information on Microsoft Loop please do not hesitate to contact us here.